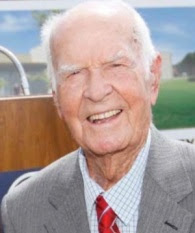 Jack Lafayette Morton was born in Ft. Worth, Texas on April 12, 1922, and passed away April 20, 2017. He attended Poly High School and Texas Wesleyan College where he met and married Jo Willa Stuteville. They were married for 70 years before Jo Willa died. They were the parents of Dr. William Morton, Jean Bookout and Kevin Morton. Jack enlisted in the Army Air Corp after Pearl Harbor, and flew various aircraft during the war. After his discharge, he joined Braniff Airways as a pilot and retired after 35 years.
He was a volunteer for the North Dallas Shared Ministries, and served on the Board of Directors. He was a volunteer for the Red Cross, and read for the blind. He served as a Deacon in the Baptist Church. He was doubly blessed and tried to repay it by contributing to a number of deserving organizations.
He is survived by his 3 children; 2 granddaughters, Deidre Triplett and Dr. Kelly Reed; and 2 great grandchildren, Katelynn and Jackson Reed; and his extended family, including Mary Morton, Carol Miller, Haley and Austin Battard, Gavin Rubin, Richard Reed and Kat Sawyer.
Services for Jack Morton will be held at 3:00 PM, Friday, April 28, 2017 in The Wildwood Chapel at Restland Funeral Home with a visitation one hour prior to the service. Following the service will be a graveside burial and a reception at Restland. View or sign the Guestbook. In lieu of flowers, please contribute to your favorite charity.
Funeral arrangements have been entrusted to Restland Funeral Home and Memorial Park, 13005 Greenville Avenue, at Restland Road, Dallas, TX 75243.
Thanks to Wayne Schrunk, Secretary of the Braniff International Silver Eagles (BISE), for the initial notification. and to Sharyn Finnegan for Jack's obituary and service information.
It was thanks to Jack, Glenn Shoop and Jack Murdoch that we had a BN Inc.